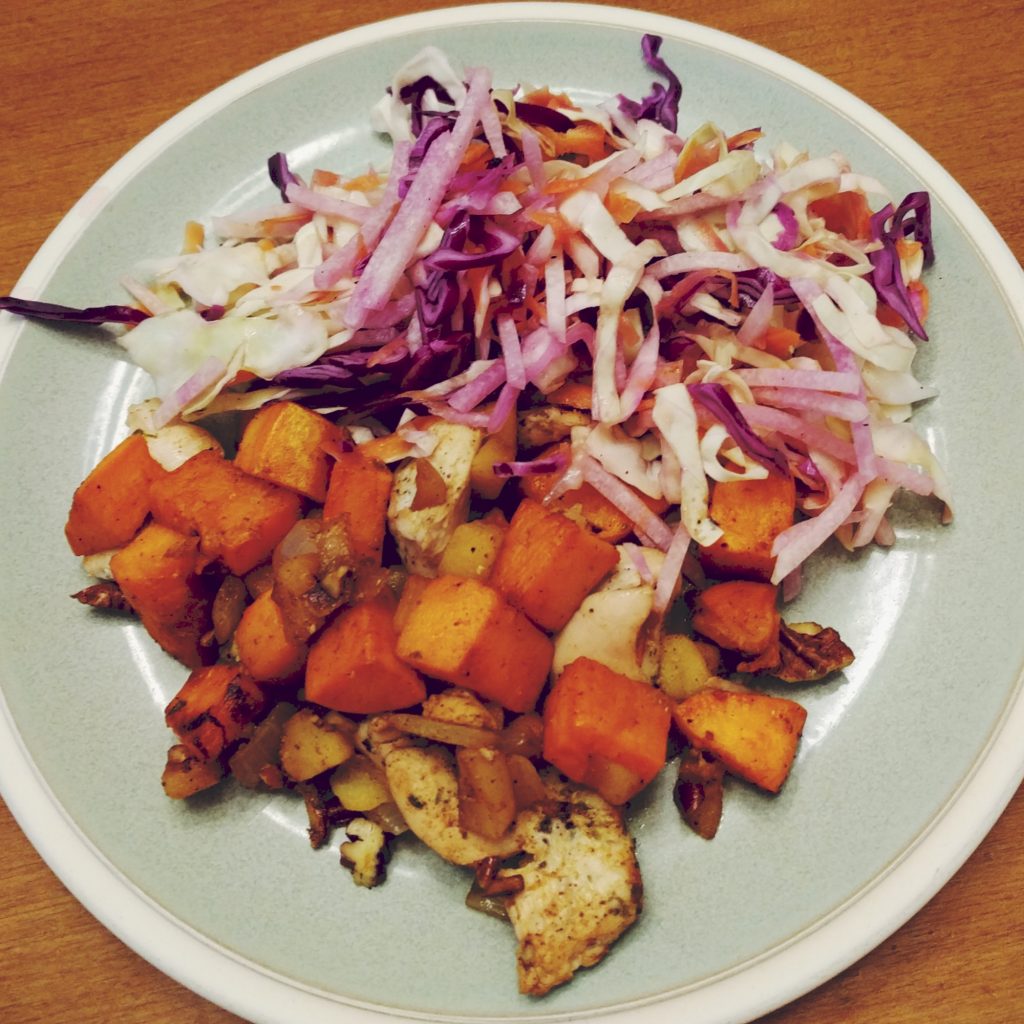 Recently I made a big bowl of easy cabbage and jicama slaw that I've been pairing with everything, like this Chicken and Yam hash.. It's nice to have a container of veggies to add to meals throughout the week without having to think about it much, especially when I'm constantly doing things for the kids and feel like I have *no time.*
Light cabbage and jicama slaw

3 cups shredded green cabbage
3 cups shredded purple cabbage
1/2 a small to medium jicama, peeled and julienned
2 medium carrots, peeled and grated
1/2 cup fresh cilantro leaves and stems, roughly chopped
1/4 cup apple cider vinegar
Juice from 1/2 a fresh lime
1 tablespoon soy sauce or alternative (I used coconut aminos)
1/4 teaspoon sea salt
1/4 teaspoon ground black pepper

All you do is toss everything together, then store in the fridge until needed. It keeps for about 5 days in the fridge.
Chicken Yam Hash

Adapted from one of my current favourite cookbooks, The Whole30 Cookbook – recipe by Melissa Joulwan of Well Fed.

2 tablespoons coconut oil
1 apple, peeled, cored, and diced
1/2 an onion, diced
1/2 teaspoon salt
1/2 teaspoon ground cinnamon
1/4 teaspoon ground black pepper
pinch of ground nutmeg
pinch of paprika
2 cups diced cooked yams
2 chicken breasts, cooked and cut into 3/4″ chunks
1/3 cup toasted pecans

Heat 1 tablespoon of the oil in a large nonstick skillet over medium heat. When hot, add the apple, onion, and salt and cook, stirring, until golden (about 8 minutes).

Stir together the other spices.

Remove the apple/onion mixture then add the other tablespoon of coconut oil to the pan. Heat up the spices for about 30 seconds, then add the yams and chicken. Cook, stirring occasionally  until browned and heated through (about 6 minutes).

Stir in the pecans, and enjoy!