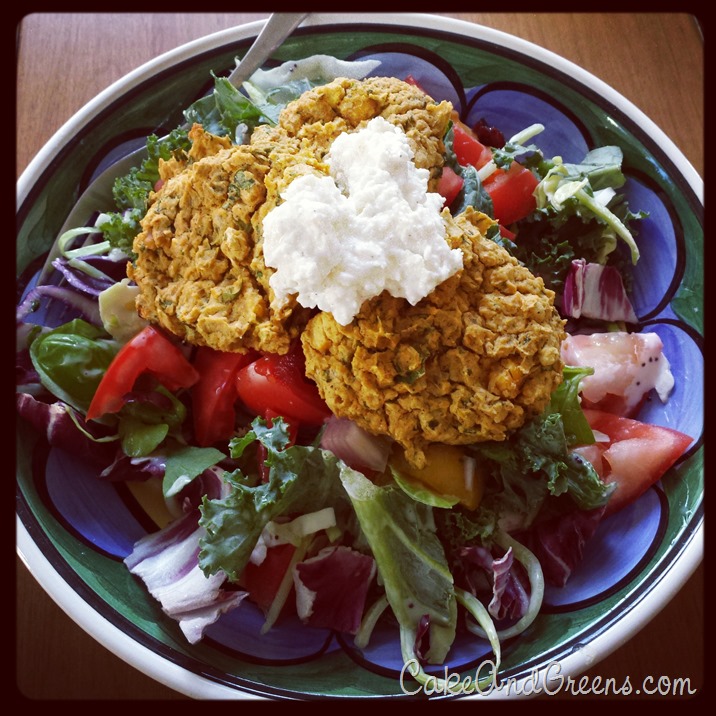 Baking falafels.. I know, genius! I didn't come up with this myself, even though I should have. I remember several falafel-making failures, where things were too mushy, my oil was too hot, and well.. too oily! Black burnt falafels aren't so great. Solution? Bake them up until they're perfectly cooked.
I love that falafels are full of so much flavour, and pack a lot of nutritional value from the chickpeas, garlic, and healthy oil. These are great inside a pita, on a salad, or even by themselves as a snack!
You can use your favourite falafel recipe, or follow this one below, and bake em up.
Healthy Baked Falafels
Recipe adapted from How Sweet It Is

2 cans Chick Peas (540mL each – low sodium), rinsed and drained
4 garlic cloves, chopped
4 green onions, chopped
1 egg
2 Tablespoons fresh lemon juice
1/3 cup chopped fresh parsley
1/3 cup chopped fresh cilantro
1 Tablespoon melted extra virgin coconut oil
1 teaspoon sea salt
1 teaspoon freshly ground pepper
1/2 teaspoon cumin
1/2 teaspoon smoked paprika
1/4 cup whole wheat flour or spelt flour
1 teaspoon baking powder

I preheated my oven to 400F.

I dumped everything except the flour and baking powder into the food processor, and pulsed until crumbly. Then I added half the flour and baking powder, and pulsed a bit more to mix. I added the rest of the flour and baking powder, and pulsed a few more times.

I scooped balls onto a parchment-lined baking sheet, and flattened them slightly into patties.

I baked them for about 25 minutes – until slightly crispy and cooked through, but still soft in the middle.