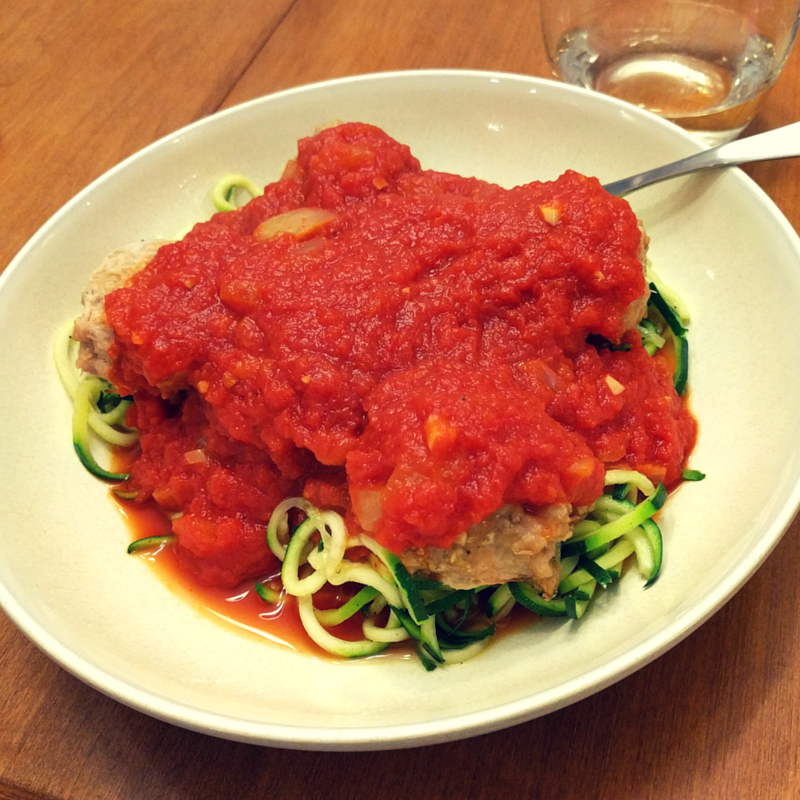 I love comfort food, and in the winter this easy homemade tomato sauce has been a life saver.   I made a double batch and have used it for zoodles and meatballs (above), as a base for a yummy taco sauce, and in a super simple tomato soup with tons of depth of flavour.  It's super easy to freeze in portions so you can pull one out whenever you need a bit.
I've simplified the recipe from the Fixate cookbook (farourite cookbook right now!). It's low sodium and packed with healthy things.
Get the cookbook in Canada here.
Healthy and delicious homemade tomato sauce

2 Tablespoons olive oil
1 medium onion, diced
4 cloves garlic, minced
1 (6oz) can tomato paste (no salt added)
2 cans (28-oz each) whole peeled tomatoes or organic crushed tomatoes, pureed in a blender
2 Tablespoons honey
1 teaspoon sea salt
1/4 teaspoon ground black pepper
2 teaspoons dried basil or 3 tablespoons finely chopped fresh basil

Heat oil in large saucepan over medium-high heat.  Add onion and cook, stirring frequently for about 5 minutes, until onion's translucent.

Add garlic and tomato paste. Cook, stirring constantly for about 2 minutes.

Add tomatoes, honey, salt, an dpepper. Bring to a boil, stirring frequently.

Reduce heat to low and stir occasionally for 1 hour.

Enjoy!