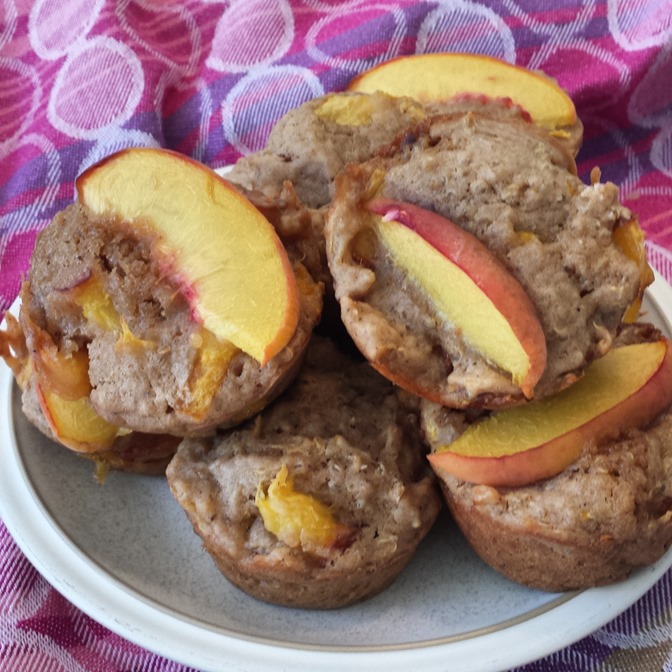 Mad carb cravings, that's me! I've been dreaming up ways where it's ok to eat an entire pan of brownies, or 2 dozen cupcakes, with extra icing, of course.. Um no, that probably wouldn't be the best idea, plus I needed a healthy(ish) snack for my daughter to take to preschool next week.
I searched a bit and found various quinoa recipes. So these guys still have brown sugar (yes, that's processed), and white flour in them, so they aren't exactly Clean Eating approved, but they're tasty, and they're definitely healthier than your average cakey muffin. Bonus, they're one of very very few healthier muffins that my little one will actually eat! I cut them in half and froze them for many future snack times (after I ate half of them myself, fresh and warm and peachy, of course).
For the quinoa… I like to make a big batch, then use some for breakfast quinoa bowls, and save some for these muffins. They're great with other fruit too, like apples, strawberries, or plums.
spiced peach quinoa muffins

recipe adapted from Egg & Dart
makes 12 muffins

1 1/2 cups peaches, pits removed, and diced (plus extra slices for topping)
6 tablespoons softened butter, divided
1 teaspoon ground cinnamon
1/2 teaspoon ground ginger
1/2 teaspoon ground nutmet
1/2 cup packed brown sugar
1 egg
1 teaspoon vanilla
1/4 teaspoon salt
2 teaspoons baking powder
1 cup cooked and cooled quinoa
1/4 cup milk
1 1/4 cups flour

Preheat oven to 375F. Heat 2 tablespoons (1oz) of the butter over medium low heat in a sauce pan. Add the spices, stir, then stir in the peaches. Coat them with your spice concoction, then remove from heat to cool.

In a mixing bowl, beat butter and brown sugar until light and creamy. Add the egg and beat until fluffy. Beat in vanilla, salt, and baking powder until combined.

Gently fold in the peaches and quinoa into the butter mixture. Add half the flour and fold until just combined, then half the milk and fold again. Repeat. Don't over-mix. You might still see some flour streaks.

Grease a muffin tin and scoop batter evenly into muffin cups (mostly full). Top with peach slices if desired, then bake until golden and a toothpick comes out clean (about 20 minutes).

Let cool 5 minutes in the tin, then remove to finish cooling on a cooling rack.