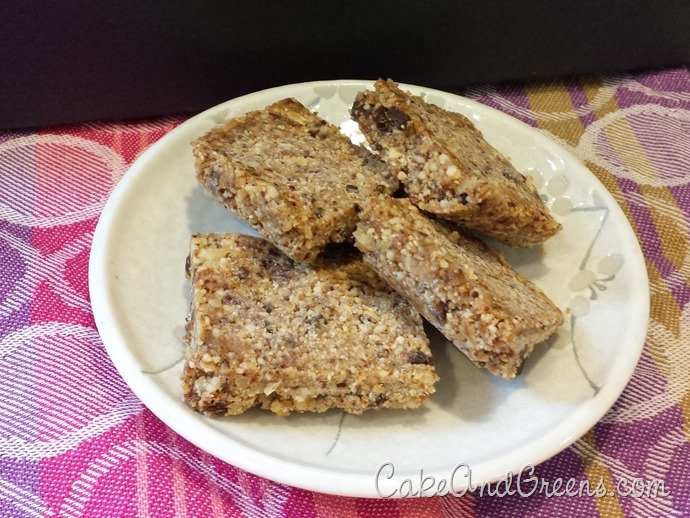 Maybe I'm being overly liberal with the term "protein bar," but these do have a good amount of protein in them (lots of nuts!). They're really just a very delicious almost-clean-eating-friendly treat that I just can't stop stuffing into my mouth. Seriously.. I've frozen the entire batch, but that hasn't stopped me!
They're sweet, salty, crunchy, and taste like cookies without added refined sugar or processed flours. You could even use gluten-free oats, or omit the oats all together. But you've been warned: I bet you can't stop at just one!
Addicting Chocolate chip Cookie Protein Bars
from Shutterbean.com

1 1/2 cups toasted cashews
1/4 cup rolled oats
1/2 cup Medjool dates, pitted and chopped up
2 Tablespoons maple syrup
1/4 teaspoon cinnamon
1/2 cup chopped walnuts
1.75oz weight chopped dark chocolate (I used Lindt's with sea salt)
1/8 tsp sea salt

Blend cashews and oats in food processor for about 30 seconds until coarsely chopped. Add in the dates, maple syrup, cinnamon, and sea salt. Blend for another 30 seconds until the dough is sticky but still a bit crumbly. Add in the walnuts and chocolate, and blend for a final 30 seconds, until it's well combined.

Line an 8-inch square baking pan with parchment paper. Dump in the mixture, cover with another piece of parchment paper, and push it down until it's nice and even across the bottom of the pan. Place in freezer for 4 or more hours, then cut into 2-inch squares with a sharp knife.

I like to store the squares in a container in the freezer. They'll keep for about 2 months, but there's no way they're lasting that long in this house!