These overnight oats are easy to make so your morning's a breeze. With the decadent combination of chocolate and peanut butter, your entire family will love these!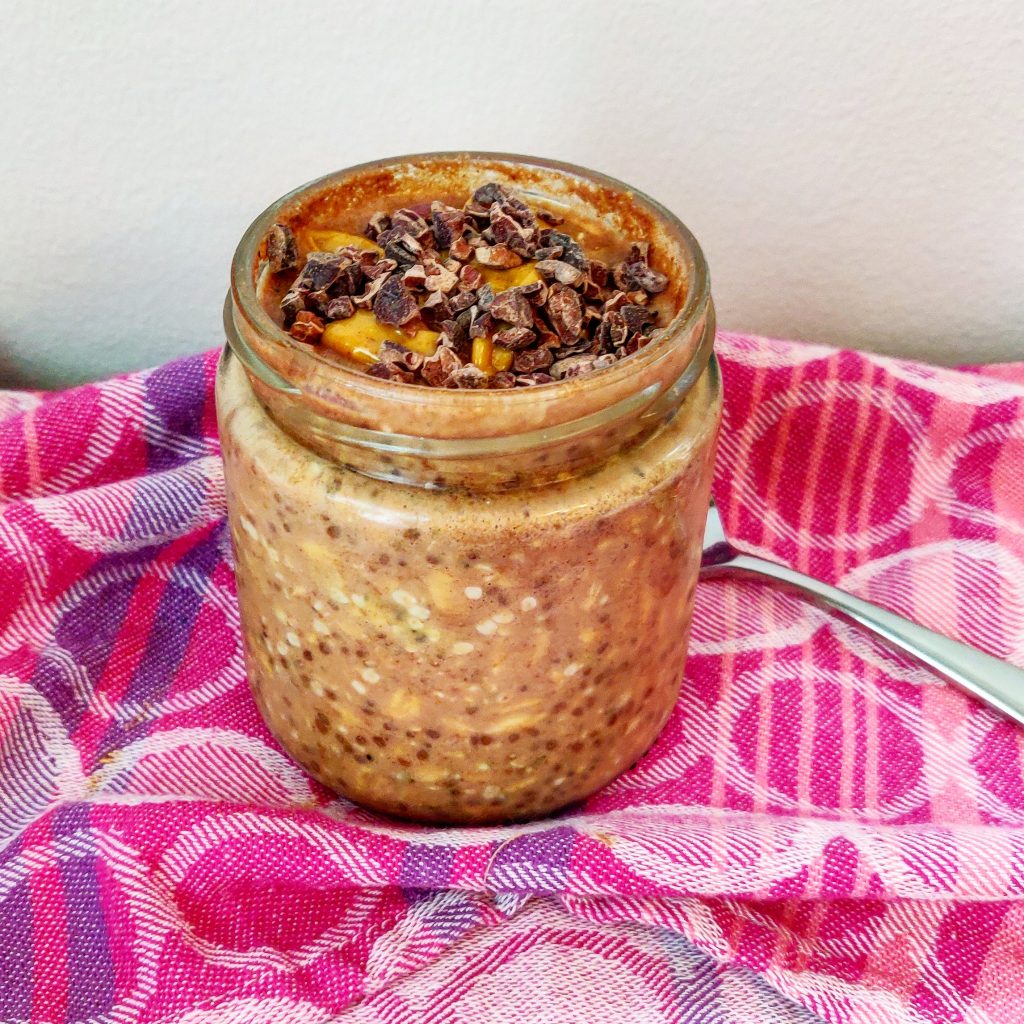 I've started on a big rolled oats kick lately.. Working out hard and I just wanted MORE CARBS! Plus, they're delicious. Overnight oats are an easy thing to meal prep 3-5 days' worth so you can just grab them in the morning and get on with your busy day.
Rolled oats have a good amount of fibre to help slow the digestion, keep your gut happy, and lower the blood sugar spike, but I also like to add in some protein to help balance this meal and ensure I'm not starving appropriately 7 minutes later. This recipe has a double dose of protein with hemp hearts and vanilla protein powder. Next I've added some healthy fats in the form of Omega-3 rich chia seeds. You can change up the flavor, but I keep going back for this chocolate peanut butter mix. I love to top it with a teaspoon of cacao nibs for some crunch.
How to make chocolate peanut butter overnight oats
Measure everything other than the cacao nibs into jars: To start, you'll measure our your ingredients into as many jars as you'd like. I recommend 3-5 servings at a time.
Stir them up: Stir everything really well, until all the powders are dissolved and the peanut butter is mixed throughout.
Place in the fridge overnight: Put them in the fridge for a minimum of 4 hours, or up to 5 days.
Add toppings and serve: Add a sprinkle of cacao nibs for texture, grab a spoon, and dig in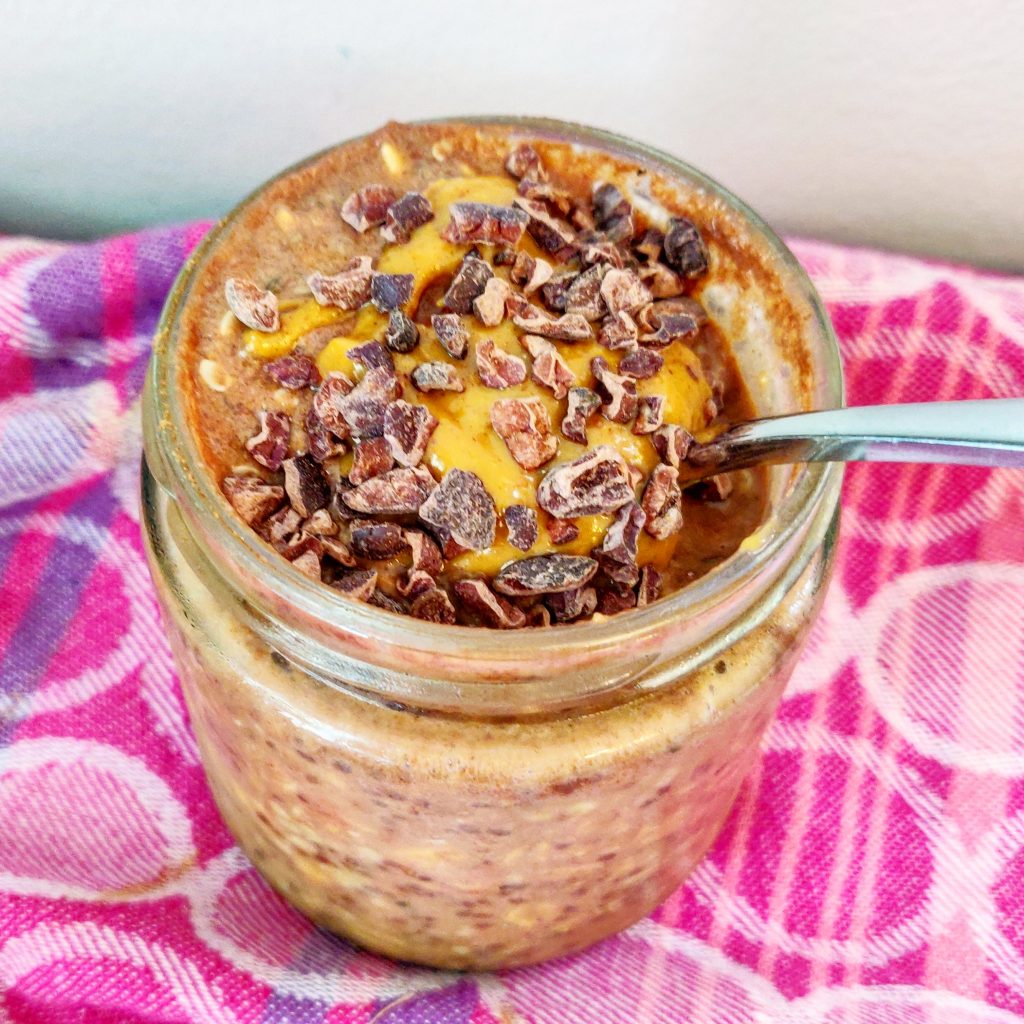 Variations
Oats: Choose gluten-free if you might be sensitive to gluten. Rolled oats hold up best. Quick oats get pretty mushy.
Sweetener: Play around with this. You can use honey, coconut sugar, stevia, erythritol, monkfruit, maple syrup. 1tsp – 1 tbsp, to taste. Some protein powders are sweeter than others, so you may not need to add any additional sweetener
Nut butter: Need to avoid peanuts? No problem. You can use almond butter, cashew butter or even sunflower seed or pumpkin seed butter.
Save time and really simplify: Not into dealing with this many ingredients? You'll lose some of the nutritional benefits, but you can add a bit more oats and leave out the seeds. You can also opt for a chocolate protein powder and skip the cacao/cocoa
Can you make up the dry mix to use?
Yes! You can mix up the dry ingredients in little baggies or in jars to use when you're ready. The night before you want this, just add to a jar and mix in the liquids (almond milk, liquid stevia, nut butter). This works well for people who like variety throughout the week but still want to batch prep a bunch of options. Dry mixes will keep sealed in the cupboard for a few months+
Can you eat these warm?
Yep! Just unscrew the lid and heat directly in the jar, or pour into a bowl. Microwave for about a minute (times will vary!), and stir before serving. You can also stir in a pot over low heat for a few minutes, until warmed through.