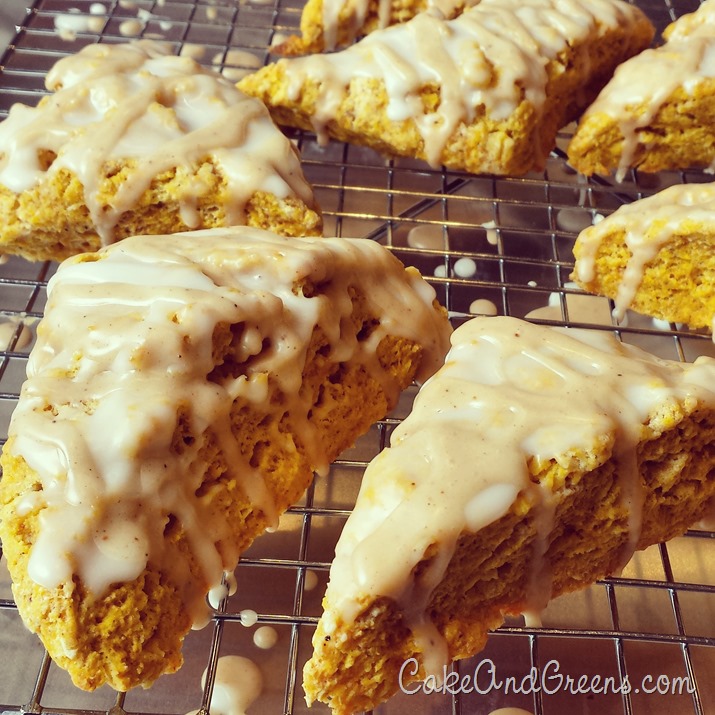 I'm a really strong believer in moderation, and in not just saying that half the foods I love are completely off-limits. This gets pretty tough when I crave all the sugary baked goods that I can think of. Today I finally decided to bake up a batch of the famed Starbucks Pumpkin Scones. They're amazing, and I'm hoping I can limit myself a bit. It wouldn't be a good idea to eat the whole batch, yahknow?
These are crazy delicious, like my favourite thing ever.. must not eat all.. Strategy? Give them to friends, freeze most for later.. I like to freeze them on a cookie sheet, then either pop them straight into a bag in the freezer, or individually wrap them. That makes for lots of future pumpkiny deliciousness.
pumkin scones

This recipe is everywhere, but I slightly modified it from Sweet Pea's Kitchen.
Makes 12 servings

For the Scones:
2 cups flour
1/4 cup and 3 tablespoons granulated sugar (just under 1/2 cup)
1 Tablespoon baking powder
1/2 teaspoon salt
1/2 teaspoon ground cinnamon
1/2 teaspoon ground nutmeg
1/4 teaspoon ground cloves
1/4 teaspoon ground ginger
6 tablespoons cold butter, cut into little cubes
1/2 cup pumpkin puree
3 tablespoons cold milk
1 large egg

For the Powdered Sugar Glaze:
3/4 cup icing sugar
2 Tablespoons milk, or to desired consistency

For the Spiced Glaze:
3/4 cup icing sugar
2 tablespoons milk
1/4 teaspoon ground cinnamon
1/8 teaspoon ground nutmeg
1 pinch ground ginger
1 pinch ground cloves

Directions:

Preheat the oven to 425 degrees F. Line a baking sheet with parchment paper and set it aside.
In a large mixing bowl, stir together the flour, sugar, baking powder, salt, cinnamon, nutmeg, cloves and ginger. Add the butter and toss with a fork to coat. Cut butter in with a fork, knives, a pastry blender, or whiz in your food processor for a few seconds, until it's no bigger than small peas.
In a separate bowl, whisk together the pumpkin, milk, and egg. Fold wet ingredients into dry ingredients, and form the dough into a ball. Pat out dough onto a lightly floured surface and form into a 1-inch thick rectangle about 4 inches by 12 inches. cut into 3 equal squares, then cut each square in an X pattern (four pieces) so you end up with 12 triangular slices of dough. Place on prepared baking sheet. Bake for 14-16 minutes, or until light brown. Place on wire rack to cool.

While the scones are cooling, make the powdered sugar glaze by mixing the powdered sugar and milk together until smooth. When scones are cool, use a pastry brush or a spoon to spread plain glaze over the top of each scone.
While the powdered sugar glaze is firming, combine all of the ingredients for the spiced glaze. Drizzle over each scone and allow the icing to dry before serving (about an hour).

Try to eat just one and freeze the rest!