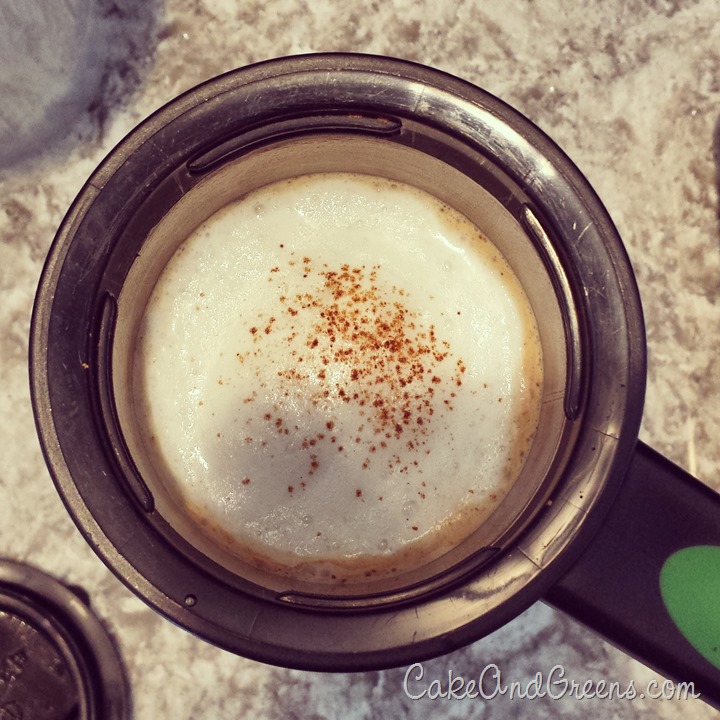 Am I crazy? maybe maybe. Today was one of those days where I just wanted to cozy up on the couch with a warm mug of pumpkin spice latte and not move a bit. Tragedy – no pumpkin puree in the house! Not a problem though, because this recipe is pretty dang good, and I don't even miss the pumpkin. Bonus: no having to open a full can or make your own when you're just going to use a tiny bit anyhow.
pumpkin-less pumpkin spice latte

A cake and greens original
Makes about 12oz

1-2 shots of espresso, or 1/3 cup very strong coffee
1/4 teaspoon pumpkin pie spice
1-2 teaspoons maple syrup or a few drops stevia, to taste (I use maple syrup)
3/4 cup unsweetened vanilla almond milk
a dash of cinnamon

Pour your espresso or coffee into your mug and stir in spice and sweetener. Steam or heat and froth your almond milk, and pour into your mug. Top with a dash of cinnamon.

Enjoy!