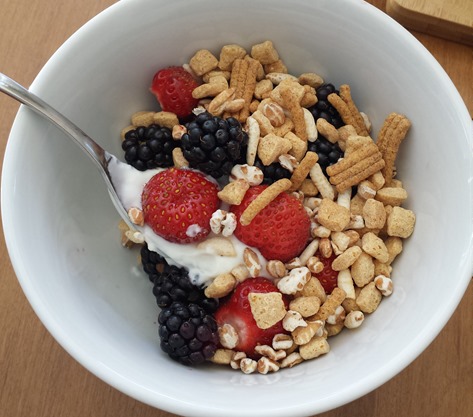 Snacking.. good or bad? I'm a strong believer in it being a very good thing, as long as it's intentional. You know those moments when you're out trying to madly get some errands done and the bear in your stomach rears its head, telling you that you need to eat ALL THE THINGS, and right now?! Yeah, that one.. We really want to avoid it, and the number 1 way is to have a healthy snack planned, plus a few extras always available in your car or purse.
My #1 healthiest option is a shakeology, but here are some more great options that I love.
Toast with avocado: mash 1/6 of an avocado on a slice of whole grain toast, add a sprinkle of salt, a squeeze of lime, and some red pepper flakes. I can't get enough of this!
Nuts: Seriously.. I don't go anywhere without a little bag of nuts. They're my emergency on-the-go snack food. Protein and healthy fats. Boom! Just be aware of how many you're eating. 15 almonds is 100 calories.
Hard boiled eggs: I like to cut one or two in half, sprinkle with salt, and add a bit of salsa. These are even decent on the go.
Edamame: Boil or steam one-half cup of unshelled edamame with a pinch of salt for a fiber-rich snack.
Greek yogurt and berries: Top 1/2 cup plain non-fat greek yogurt with berries (defrosted frozen blueberries have lots of delicious juice to mix in). You can add a bit of high protein whole-grain cereal, seeds, or granola for crunch.
Veggie sticks and hummus: A few tablespoons of hummus and 10-15 baby carrots, or celery sticks. Yum.
Apple and almond butter: Slice up an apple, sprinkle with cinnamon, and dip into a tablespoon of peanut butter or almond butter.
What are your favourite snacks to keep you fuelled throughout the day, or stop the hungry bear while on the go?