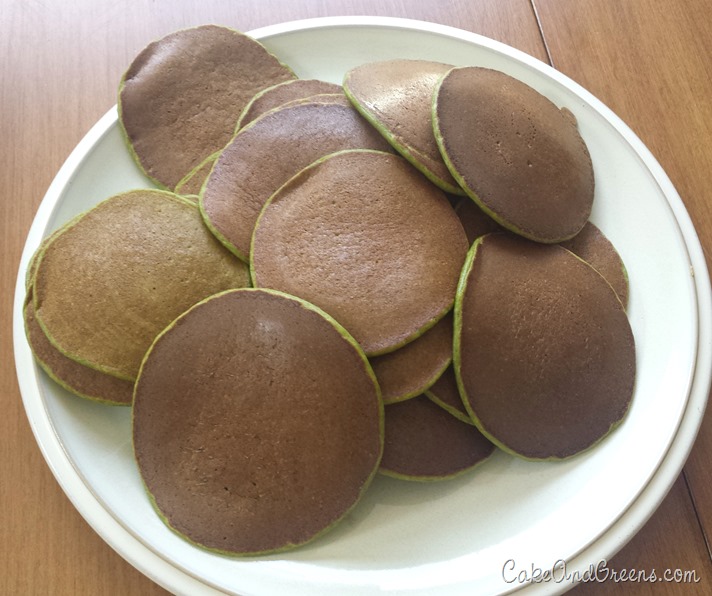 These pancakes, you guys.. they're a game changer! Packed with protein AND veggies.. and they can be gluten free. what What?! Perfect healthier breakfast option for kids and adults too. I don't even just feed them to the kids and make myself something else. (You know those gross recipes you've tried before? yeah.. yuck).. These are denser than regular pancakes, and delicious.
I end up feeling bad with a dose of bloated when I make my regular light and fluffy gluten-full pancakes, full of white flour and oil. Not these. These have no oil. They've got Greek yogurt, eggs, and VEGGIES! Today I made them with cooked broccoli. I know, crazy right? My 3 year old carbaholic rarely eats her vegetables or any protein, so I feel a bit better when I can get these into her.
Top them off with some frozen blueberries defrosted until ooey gooey like syrup. I'm working on a completely grain-free version too, so stay tuned for that.
Protein pancakes with hidden veggies

4 eggs
1 banana
1 1/2 cup oats
1 cup Greek yogurt
2 teaspoons cinnamon
2tsp vanilla
1c spinach
1 scoop protein powder or Shakeology (optional)
A few tablespoons of milk as needed if it's too thick

Heat non-stick pan over medium heat. Blend all ingredients in blender until smooth. Pour 1/4 cup scoops onto hot pan and cook until bubbles form then start to pop. Flip and cook for another 30 – 60 seconds.

This Makes about 15 pancakes.
21 Day Fix containers: 3 pancakes = approx 2/3 red 1/2 purple 1/2 yellow