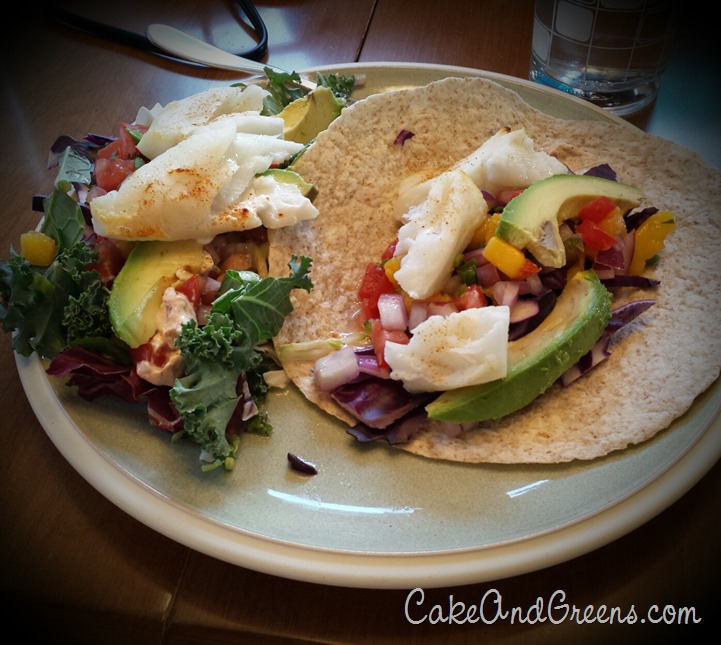 This is one of my favourites for dinner. My daughter will eat parts (hold the spice). I give her yogurt "dip," fish, pieces of tortilla, and avocado.
You can get fresh fish if you'll be making this within a day or so, otherwise I like keeping a bag of cod fillets in the freezer. Pull one out to defrost in the fridge the night before. The best part is that this recipe only takes about 20 minutes to make, start to finish, including prep! That's a win for this mama! When I have it, I LOVE using mango salsa.
Calories will vary depending on the tortillas you use. Mine are 100 calories each. Meal is 425 calories (makes one serving)
6 oz raw cod or other white fish, washed and patted dry
¼ teaspoon sea salt
2 6-inch whole wheat tortillas
1 Tablespoon salsa
1 Tablespoon plain non-fat Greek yogurt
¾ cup shredded raw cabbage (I prefer red). Add kale if you like.
1 small handful of fresh cilantro sprigs
¼ of a lime (you'll use the juice)
cayenne pepper (to taste)
¼ medium avocado, sliced

Preheat broiler to high

Season fish with salt and broil for 3-5 minutes per side, or until it flakes easily with a fork.

Wrap tortillas in a damp paper towel and microwave for 30 seconds. Place on a plate and top with yogurt, salsa, fish, cabbage, cilantro, avocado and a squeeze of lime juice. Sprinkle on cayenne pepper to taste.

Fold and serve.

PS: This one can be messy!