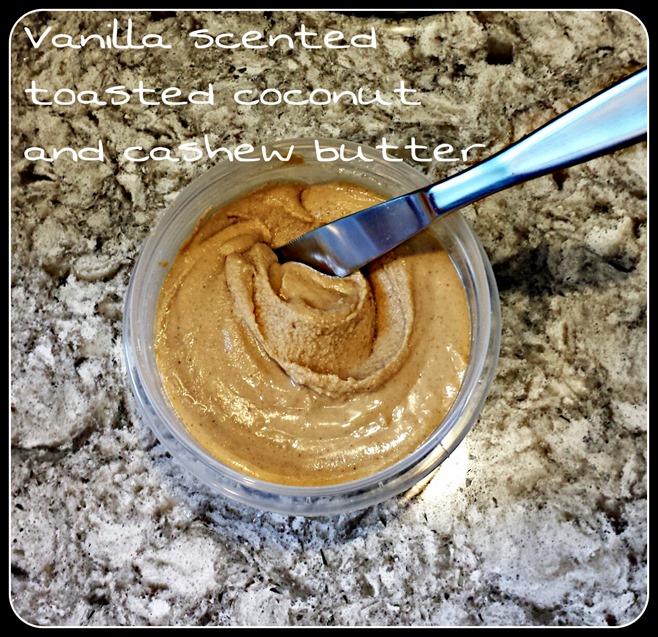 Oh yummm.. yum yum yumminess. I made this weeks ago and then promptly forgot to share, as I consume more and more of it. I know, I've been holding out! This stuff's amazing, and really not that tough to make. You just need either a food processor or a great high power blender, then you too can enjoy the coconutty vanilla-ey cashewey amazingness. It's fabulous on toast, and even better on waffles.
vanilla scented toasted coconut & cashew butter

Slightly adapted from The Suburban Soapbox

1 1/2 cups unsweetened coconut
2 cups unsalted raw cashews
1 1/2 teaspoons vanilla extract
a pinch of salt

Preheat oven to 325F

Line a baking sheet with parchment paper, then spread the coconut out and bake for about 5 minutes. Watch carefully, as you don't want it to burn. Just let it get golden brown. Set aside

Toast the cashews in the same way (about 10 minutes), until golden.

Dump all your ingredients into a food processor or blender and just keep on blending until it's nice and creamy.. Depending on the power of your machine, this could be 5-10 minutes.

Pour or scoop into an airtight container and keep refrigerated for up to 3 weeks (OK, I've had mine in the fridge for a few months now, because I FORGOT ABOUT IT (not sure how!), and it's still fine.. but best to stick to the 3-week guideline.