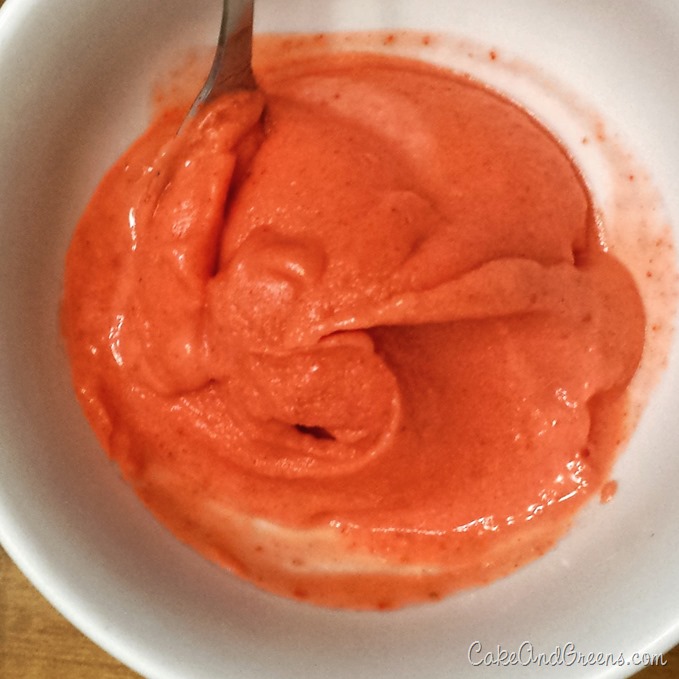 Searching for some healthy treats now that we're all feeling the need to eat a bit lighter after the last 3 months of food crazies? Yeah, me too. I still want a little something sweet and delicious, and this fro-yo really hit the spot. Strawberries, bananas, and yogurt. Om Nom! Sweetened with agave. You could use some stevia in place of some of the agave too.
Can we talk about babies for a minute though? I'm going to have a baby soon! CRAZY! I mean, nothing new, I've been pregnant for 8 months.. I've had a baby before.. but having a toddler and a newborn? eek! Not ready! How do you become ready? I'm not sure that's a thing. I think we'll just be winging it, no matter what. But really, you should see my freezer because it's pretty much stuffed to capacity with portioned out dinners. Yep, I'm that lady. Preparing for baby is all about food in this house. Baby bedroom? meh. But a full freezer is a MUST. I still have so much I want to make.
I portioned a bunch of this frozen yogurt treat out so I can pop one into a bowl anytime. I just used a silicon muffin pan. Perfect! They're all waiting in a ziplock bag for my next strawberry craving. 15 minutes to soften up a bit. I can handle that.
5 minute strawberry banana frozen yogurt

4 cups frozen strawberries
1 frozen banana in chunks
6 Tablespoons organic agave
1 cup plain non-fat yogurt (regular or Greek)

Dump everything into a food processor or high power blender and blend for about 5 minutes, or until smooth and creamy. Scrape down sides as needed.

Serve immediately or freeze. Just remember that it'll harden up in the freezer, so you'll need to let it soften for 15 or so minutes before serving.