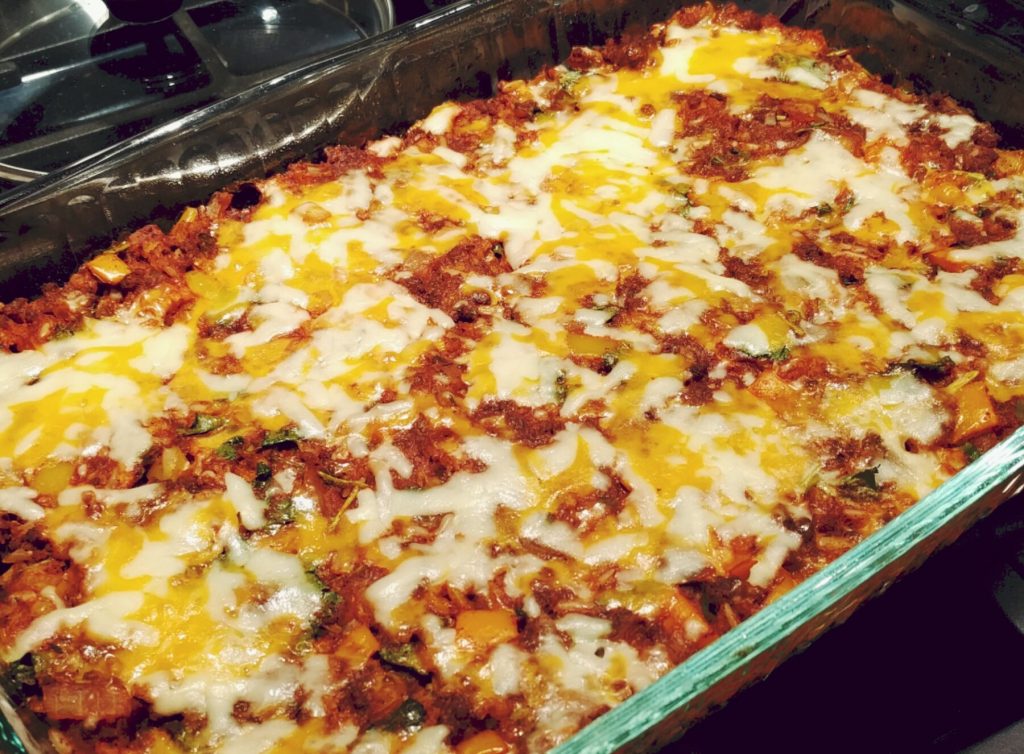 Dinner struggles with my two picky eaters is a very real thing in our house. The battles, they bug me so much sometimes. Part of feeling like I'm doing a good job at this whole mom thing is knowing that they're eating nutritious foods to fuel their bodies.  Oh, did I mention the part about them having many opposite dislikes? She hates tomato sauce, he hates cheese sauce. He loves scrambled eggs with fried onions, she won't touch it, but she'll chomp on raw carrots if I bribe her…
This healthy taco bake though – it was a winner for us! And it's all healthy and balanced, plus it fits into the 21 day fix meal plan perfectly.  You get 1/4 of the entire pan as a serving! (counts as 1 red, 1 green, 1 yellow, and 1 blue container). So take that, you last 10 pounds!  You can use ground turkey in place of the beef, but I wanted to make it more kid-friendly, plus our chili is with turkey, so we needed to change things up a bit.
Healthy Taco Bake

2 cups cooked brown rice
1 yellow onion, diced
3 cloves garlic, minced
1 jalapeno pepper, diced
1 pound lean ground beef
1 bell pepper (colour of choice), diced
2 teaspoons fresh lime juice
2 Tablespoons chili powder
1 teaspoon oregano
1/2 teaspoon thyme
2 teaspoons cumin
1 teaspoon sea salt
1/3 cup fresh cilantro, chopped
1 cup shredded cheddar cheese
1 (15 oz) can tomato sauce (low sodium and no sugar added)

Preheat oven to 350F and spray a 9×13 inch casserole dish with non-stick spray.

Heat a large non-stick skillet over medium heat and spray with cooking spray. Add onion, garlic and jalapeno, and sauté for about a minute. Add ground beef and break apart, browning for about 5 minutes. Add bell peppers and cook for another 3-4 minutes, until beef is cooked through.

Add lime juice and spices. Adjust seasoning to taste.

Remove from heat and add rice, 1/4 cup of the cheese, tomato sauce, and cilantro. Stir to mix well.

Pour into casserole dish, top with remaining cheese, and cover with aluminum foil. Bake for 20 minutes covered.

Remove foil and bake for another 10 minutes, or until nice and bubbly and delicious looking.  Remove from oven and let cool for about 10 minutes.