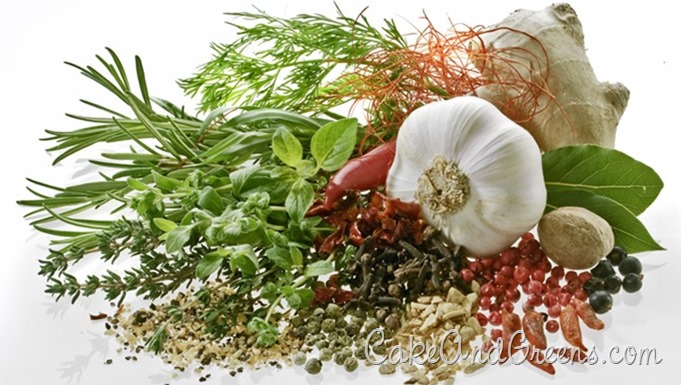 Are you getting bored with the same old same old thing to eat?
Here are some ideas to add lots of flavour without adding any significant calories. I like to call these my FREE foods. Big flavour, no guilt!
Herbs and spices – I love love love cinnamon. I'll sprinkle it on sliced apples, in my yogurt, and in my oatmeal. Toss herbs and spices them into and on everything! Chicken with rosemary is great. I use this Southwest mix on my roast veggies as well as grilled meats, instead of using a commercial (high-sugar!) BBQ sauce:
Smoky Southwest Seasoning (add to meats and veggies before roasting or grilling)
1 Tbsp chili powder
2 tsp ground cumin
1 tsp coriander
½ tsp onion powder
½ tsp garlic powder
½ tsp dried oregano
½ tsp smoked paprika
1 tsp sea salt
Red pepper flakes (ok, this falls into the herbs and spices category, but I loooove them. Red pepper flakes are fabulous in scrambled eggs, and on top of mashed avocado on toast.
Lemon or lime juice – add a squeeze to fish or on top of any food that you want to add a little pick-me-up, or drop a wedge into your water.
Mustard – add to sandwiches or dressings for a big punch of flavour
Tabasco or Sriracha hot sauce – so good in eggs or with a bit of Braggs liquid aminos (a gluten free alternative to soy sauce) in a stir fry.
Garlic and ginger – add one or both to roast or pan-fried veggies
Salsa – while this isn't calorie-free, it's very low in calories, and you'll only be using a little bit. Add a spoonful to scrambled eggs, use as a sandwich spread, or as an alternative to salad dressing.